How To Send Group SMS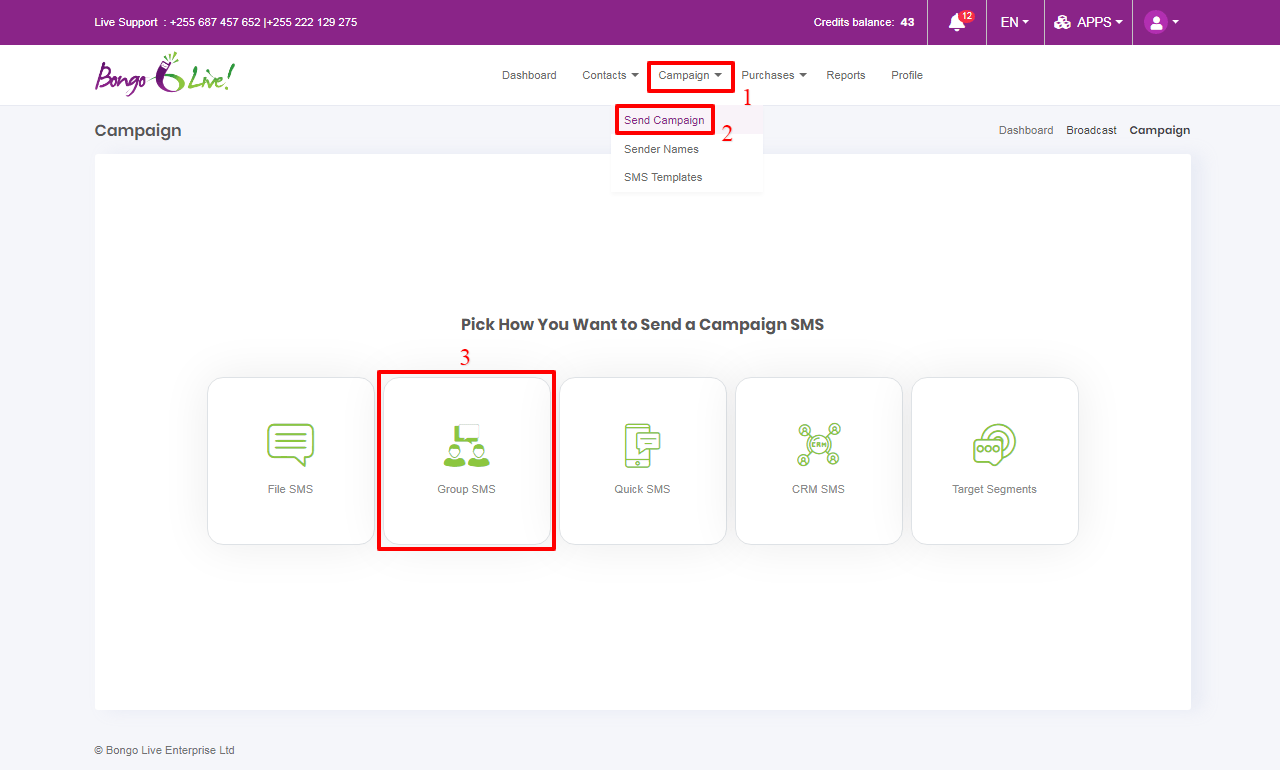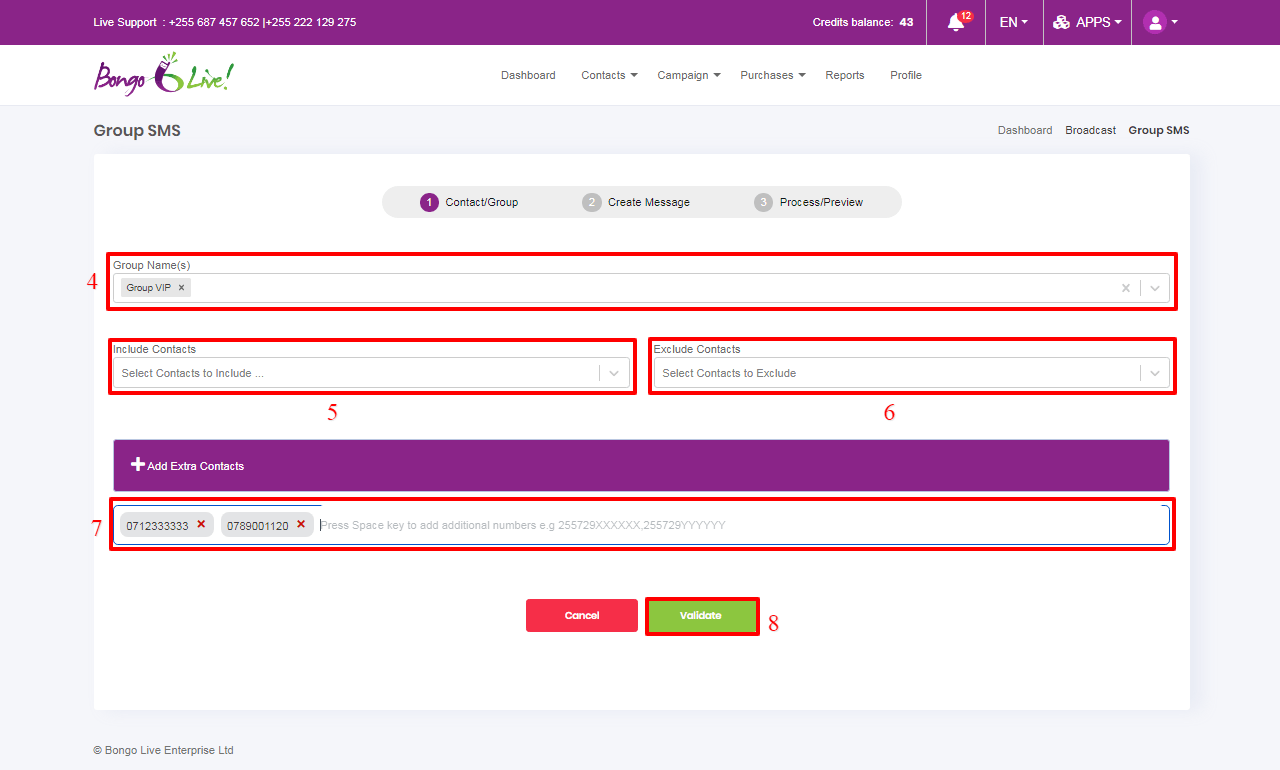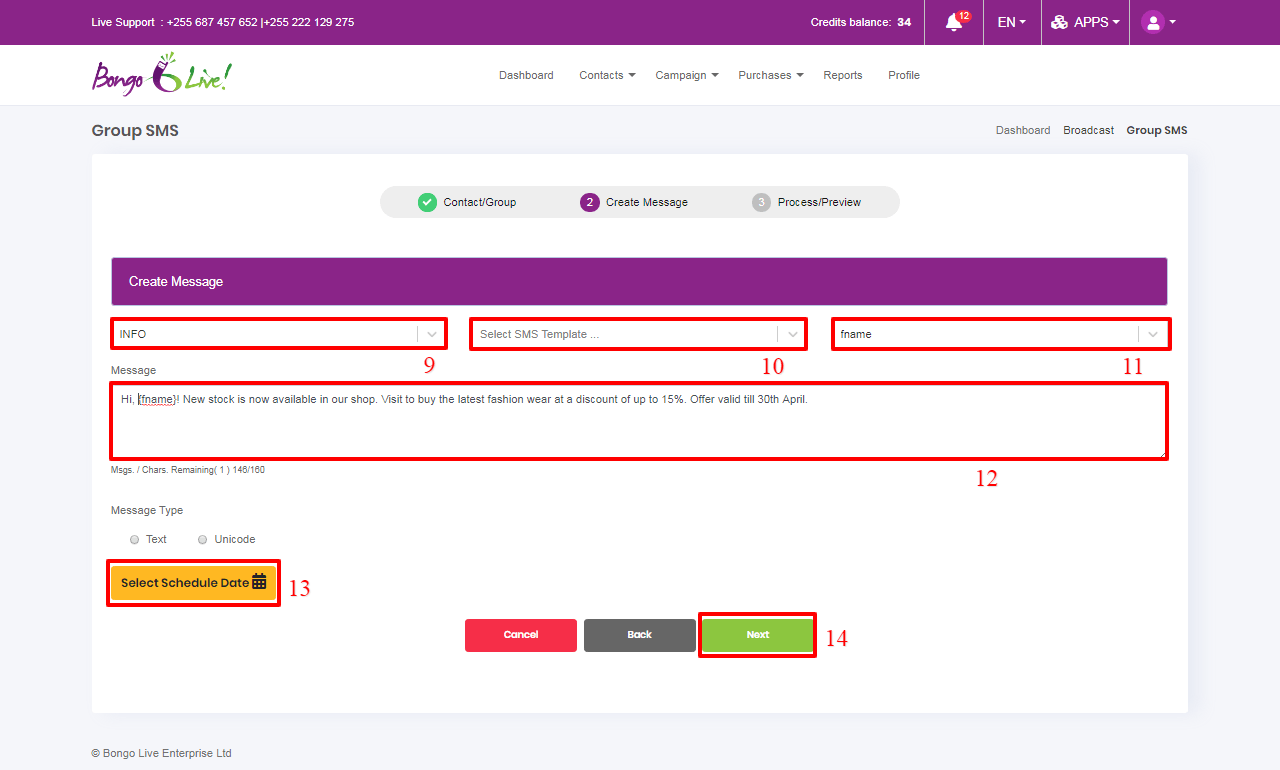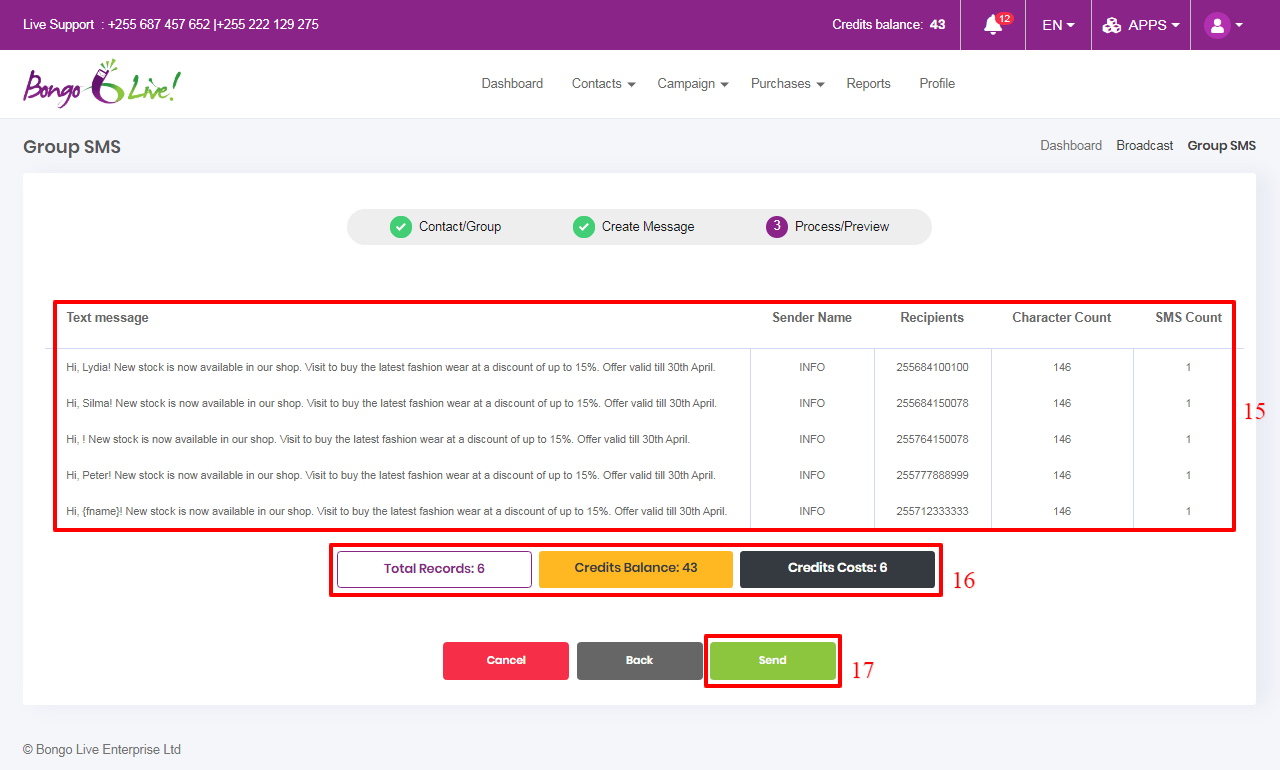 Here is a quick walk through video to show you how to send group SMS
Group SMS allows you to send an SMS broadcast to either one or more groups from the list of address book already saved in Contacts.
To send out an SMS campaign to a group of contacts, follow the steps below;
Click on "Campaign" on the main menu on your dashboard

Select "Send Campaign" on the drop down menu

Click on the "Group SMS" icon

Select address book(s) you want to send your message to

If you want to include individual numbers which are not saved in the selected group(s), you can add them from the list of contacts in the "Include Contacts" box

If you want to exclude individual numbers in the selected group(s), you can remove them from the list of contacts in the "Exclude Contacts" box

To add extra contacts not saved in the address book, click on the on the box below the "+ Add Extra Contacts". Type in the numbers in the format 255782… i.e. include the country prefix for better results. Also, remember to press the space key to add another number(s)

When done, click the "Validate" icon and then click the "Next" button to continue

Select a "Sender Name" which is required and will appear as 'From' when recipient receives the message

Select an "SMS Template" which is optional. Templates are message that you have saved to reuse again. You can select this from the list of saved messages in your template

Select your "Placeholder" tag (optional) from the available list of options in the placeholder box i.e. mobile number, first name, gender, city, email, country etc. Placeholders are used to personalize your message i.e. when you add a placeholder tag to a message, it will automatically populate the customer's message with the relevant information such as 'First Name', 'Last name' etc to make each SMS unique. A preview message with the placeholder can be seen in the last steps before the messages are sent out.

Type in your message in the message box. Be mindful of the message character counter at the bottom left corner of the message box. One SMS has 160 characters, more than that qualifies as two messages

To schedule your SMS campaign, click on the "Select Schedule Date" box. Skip this step if you do not want to schedule

Click the "Next" button to continue

Preview and confirm text message (is the placeholder placed at the right place and appears correctly), sender name, recipients, character count and SMS count in correct for the group SMS you want to sent

Validate the total records of the group SMS, the credit balance and cost for the particular group SMS

When done, click the "Send' button

You will receive a notification "Message(s) Sent Successfully"